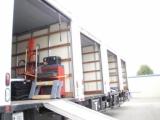 Welcome! Hi, I'm Michael Emery, owner of Mike's Moving Company. My company is based in St. Joseph, Missouri, and I am an active member of the community here.
I have worked in the moving industry for many years and I bring this experience to Mike's Moving Company.
We are licensed and insured and have all the equipment needed to safely move your furniture.
We can take the stress out of your moving experience, because we know all the ways to make your move not only pleasant but even enjoyable.
Your move will be enjoyable because my crew is courteous and we constantly strive for customer satisfaction. Our guys don't drink or drug and are mature, hard working, and dependable guys. We will travel up to 150 miles from St. Joseph to do a job and be there by sun up if need be.
Mike's Moving Company
2912 Frederick Avenue, Suite 11
St. Joseph, MO 64506-2904
Phone #: (816)364-2255
Email:
mikes.moving@yahoo.com